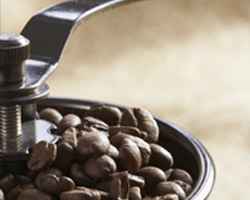 Relax and chat with a friend while waiting for service to begin. Or did you stay up too late watching the big game and need a pick-me-up? We've got you covered at the Coffee Connection. Choose from hot and cold beverages and an assortment of snacks featuring Barnie's Coffee.
Hours
Sunday mornings from 7am to 11am.
Menu
Coffee: $1
Flavors include Colombian, Vanilla, Cinnamon Butter Cookie, Santa's White Christmas, Hazelnut, German Chocolate, Creme Brulee, Sweetheart Blend, and Decaf.
Cappuccino: $1.50
Vanilla and Chocolate Caramel Pecan
Coffee Freezers: $3
Hot Chocolate: $1.50
Hot Tea: $1
Flavors include Blue Lady, Mango, Jasmine, and Blueberry.
Smoothies: $3
Flavors include Strawberry Banana, Strawberry, Banana, Mango and Superfruit Antiox. Contains caffeine.
Apple or Orange Juice: $1
Sweet or Unsweet Iced Tea: $1
Soft Drinks: $.50
Bottled Water: $.50